Flower wheel, one of 4, stoneware, 6" each
Ever since I made this Llama cart a few years back, and set him in a rather dark and dangerous playground scene in a 2005 exhibit, I've put nearly all my work on wheels, springs, carts, or otherwise made them mobile. Over the course of those same years, I've also moved my studio a couple times, and moved away from large-scale site-specific public art and back into more portable artwork, so maybe I'm feeling the joys of mobility myself, and want to share that with my sculpture.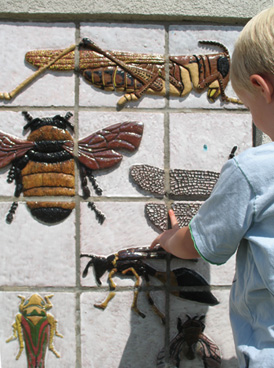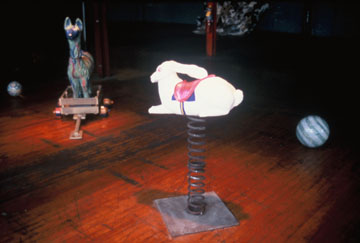 Detail of a site-specific piece interpreting the natural history of Third Ward in Charlotte, NC, 2002 and
ALL WORK AND NO PLAY,
Stoneware and mixed media installation, 20' x 20' footprint,
LOOM3 exhibit, Chatham Mills, NC, 2005
Recently, the wheels have gotten more and more decorative, like the flower wheels below, which will soon axel onto a rustic cart to carry the fierce and storied Caracal (also shown below.)
Caracal, Stoneware, lowfire glazes, carved stories, 27", 2010
Caracal, detail, 2010
In many of my recent pieces, I draw on the long-lived rhymes of childhood, which reveal a seamlessness in the existence of animals and people, and the way the workaday, everyday life of adults can offer worlds of imaginative play for children.
Blue Horse and Alphabet Cart, stoneware, lo-fire glazes, vintage alphabet, 2011
Blue Horse and Alphabet Cart, details
I had a little hobby horse,
His name was Dapple Gray,
His head was made of pease straw,
His body made of hay;
I saddled him and bridled him,
And rode him up to town,
There came a little puff of wind
And blew him up and down.
The word play of nursery rhymes and those seamless metamorphoses between animal play, children's play also inspire the next piece. In the piece below, the Hobby Horse becomes a creepier character, saddled by mother nature, the Saddleback Caterpillar.
Saddleback Caterpillar
, 40" x 36", in progress, 2011
Another kind of play from the stories of children that remains interesting to my adult self, Animals take on the roll of humans in staging their own experiences, and scales shift from small to large like Alice did drinking her potions. The dog below, also in progress, straps on a tool belt and pushes a hospital gurney. On that gurney, a playing field in miniature captures my vision of the dream-life of dogs: on soft green grass a series of dog toys, rabbits, and chickens in quantity and variety that only the most spoiled dogs could do more than dream of.
Dog, detail from Gurney Paradise, stoneware, 48" high, in progress 2011.
Dog Toy, detail from Gurney Paradise, in progress 2011
Handcars seem like a great metaphor for freedom, the open road. Wherever the tracks and your elbow grease will take you, you're off. The next piece reminds me of those old black and white cartoons from the 20's and 30's, where chase scenes envisioned handcars skipping the tracks and going through houses, streets, and off into neverland, mashed together with a moment from "The Brementown Musicians," where a rooster escapes the fate of ending up next to a heap of dumplings.
Rooster Handcar, detail of working foot
I made the Rooster handcar before I had chickens of my own, but perhaps this one (her name is Froggy) has some ideas about trying out wheels herself.
Froggy visits the studio, summer 2011.